Our Services include:

Exterior Painting
Complete Exterior Painting & Staining. "Sikkens", "Structures", "Penofin", "Cabot's" and transparent stain experts. We use time-tested and systematic methods. Consider using new "self-priming" paint, such as Sherwin Williams Duration paint or Benjamin Moore Aura paint, in place of solid stains to extend durability to eight years and beyond. We paint vinyl, aluminum, steel and wood surfaces with specific products designed for those surfaces.

Interior Painting
Complete Interior Painting, Custom Staining & Varnishing. Fine Enamel Work-Cabinets, Windows, Doors and Trim. Specialty finishes such as Sponge, Stripes, Suede, Ragging, Metallic, Combing, Crackle, Color-washing, etc. We do the preparation required to achieve industry leading finish quality levels. Consider using Fine Paints of Europe paint on your front door to really provide "pop" and durability.

Deck & Fence Staining
Power washing/cleaning, staining and refinishing of decks & fences. We can also do any repairs necessary prior to staining. The key to durability is removal of graying wood surfaces and stains (by specific chemical cleaners and expert power washing) prior to application of a top-quality stain.

Commercial Work
Complete exterior and interior painting. Parking Lot Striping & Painting. Examples: Churches, Schools, Dentist/Doctor offices, Retail, Office and Light Industrial.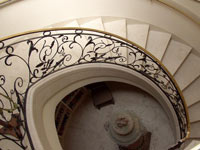 Other Services:
Our power washing is performed expertly and safely using truck-mounted equipment and time-tested expertise. Vinyl/Aluminum Window & Siding Painting, New construction and remodel painting, minor carpentry/repair. We also offer color consultations.